KMITL'S STUDENTS OF AGRICULTURAL COMMUNICATION DEPARTMENT AWARDED THE THAILAND INTERNATIONAL FILM DESTINATION 2018 PRIZE
SUFFICIENT ECONOMY DRIVES THAI SUFFICIENT LIVES.
Watching the short film product of agricultural communication students; Delivering the idea reflecting the vision of the new generation with the lives of the sufficiency of Thai people.
The short film able to win the first runner-up award and could beat others' global works from all over the world; the Thailand International Film Destination Festival 2018: Colorful Thailand, A True Sense of Thailand's Film Destinations.
Department of Tourism marvelously arranged the 6th Short film competition in Thailand for the occasion of international movie taken in Thailand; the Thailand International Film Festival 2018: TIFDF2018 with short films offering beautiful places in various provinces across Thailand through the point of view of the new generation of international students and Thai students having presented their competitive short films taken in Thailand. The Filmed works would be focused on filming in 8 specific tourist attractive locations across the country. Contestants will be film students from around the world. There are 277 teams in the competition. The finalists of 24 teams from around the world, such as England, Bulgaria, Portugal, Brazil, India, Philippines, and Singapore.
The film competition under the concept of the Thai lifestyle must be presented to present the Thai tourism with the beauty of the places of nature, the charm of culture, local identity, and Thai lifestyles. All of the short-filmed visions must be full of colors of Thailand viewed out from varieties of perspectives of the contesters. Additionally, 15 Thai student teams selected out of 36 teams with the theme "Sufficiency Economy" was selected to work for the filmed action in various provinces throughout Thailand.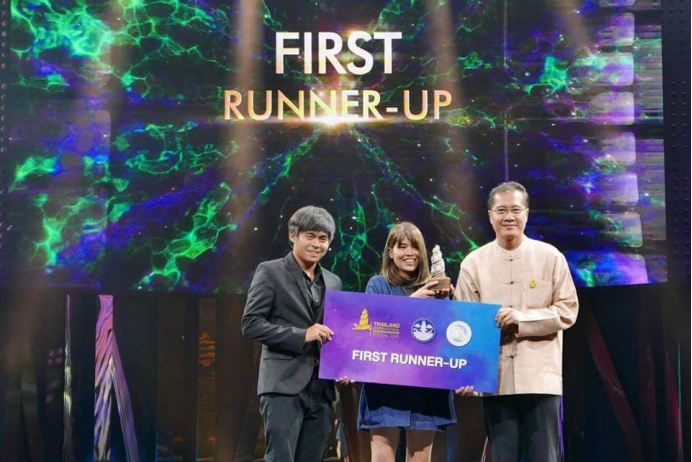 The awards ceremony was held on July 17, 2018, at the Siam Cineplex Theater, 7th Floor, Siam Square. The short film of "Begin" from the Partner Film team consisting of Mr. Sereepap Sonpho, Ms.Kebtawan Kopanitjareon, Mr.Sathapanik Wateak, and Ms.Sasipim Kamsiriruk, the KMITL's Students of Agricultural Communication Department could win the First runner-up of the excellent short film award. Congratulations on the achievement.